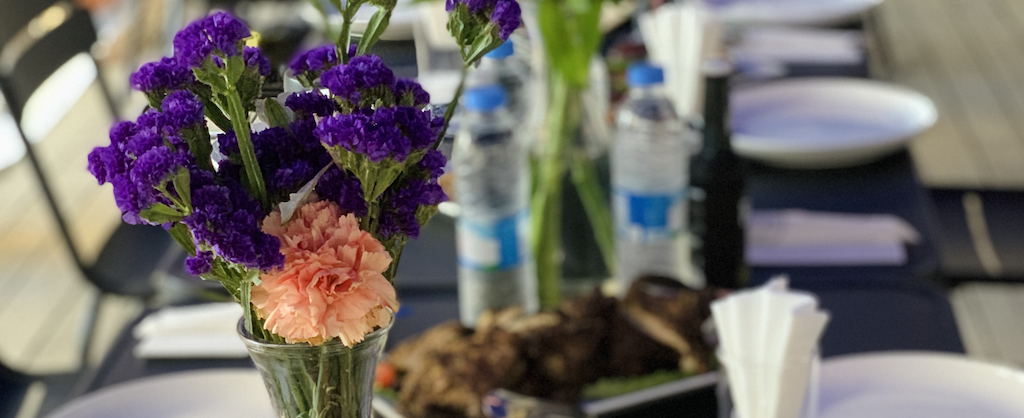 Book an Event
Hosted Exclusively at Industry City!
Courtyard Tent     
Our most popular event space!  This large heated outdoor tent can accommodate several different seating arrangements. We've hosted baby showers, corporate receptions, even micro-weddings! Perfect for evening, en plein air events, the sunset provides unbeatable décor. Kids will enjoy running around in the natural rock gardens. Adults will enjoy access to the exterior bar. Half Tent Capacity: 25 seated, 40 standing. Full Tent Capacity: 60 seated, 80 standing.  
Courtyard Firepit 
Outside of our heated tent is an artful gas firepit -- an ideal setting for an intimate cocktail hour or kids birthday. We serve buffet-style meals alongside the high tables surrounding the firepit as well as offer s'mores! Eight seats are positioned around the fire. Capacity: 16 seated, 25 standing.  
Café
This dining area combines our indoor café seating with Innovation Alley, and extends the whole length of the building from entrance to entrance. This space is completely indoors. Music and lighting can be tailored to your preference in the café area, while the alley can host live music or DJs and act as an overflow standing area or cocktail reception.  Capacity: 35 seated or 60 standing.
Spaces
Full Buyout ~ 205 total
Tent: 60 Seated / 80 Standing
Firepit: 16 Seated / 25 Standing
Café: 35 Seated / 60 Standing
Cuisine
Middle Eastern and Mediterranean
Please use this form request an event